Watch the low resolution full movie here or download the high resolution version (3 GB) bottom of the page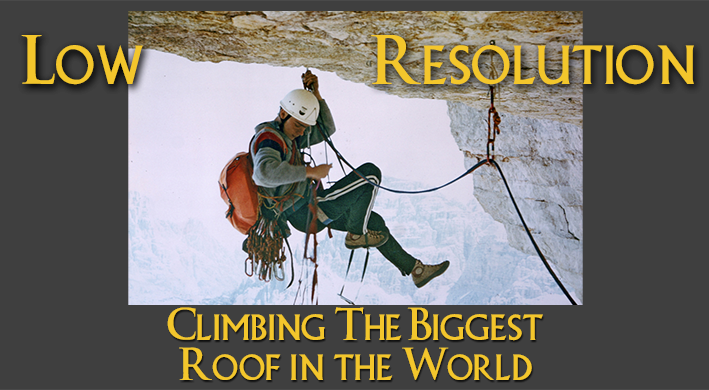 On this page, You can watch a low resolution version or order a high resolution copy of the full movie (40 min) of the first Belgian climb of the direct Northface (Bauer route) of the Westliche Zinne (Cima Ovest Di Lavaredo) passing the biggest overhang of the world, a 50 meter upsd stairway which was climbed for the first time in 1968 by German filmmaker Gerhard Baur.
The original 8 mm movie shot by Erik Tanghe has been scanned image by image to ensure the best quality available. Colors have been corrected, sharpness improved while especially sound and music have gotten remastered.. Due to decay in filmquality of some parts of the movie this has been a tedious job so I do ask a small sum of 8 euro for the download. It will give you a historical document of climbing in the beginning of the eigthies (1983)..
At this moment the full movie is only available as .mp4 file in H264 compression in full hd 1920 x 1080 px resolution to ensure the best quality since downgrading it to DVD format which only runs at 720 x 480 pixels would make the movie loose too much of its achievable quality..
Make sure you're device can play back .mp4 moviefiles (most modern movie players and computers do).
The movie file has a size of about 3 GB so make sure you have enough space on your device and do realize that downloadtime can take some time..
Should the download fail or stall after some time, just refresh the download. It will pick up where it stopped..

I only accept paypal payments and after payment you will be send a downloadlink which will remain active for 24 h. Afterwards the movie can't be downloaded again..
Click the paypalbutton below which will directly lead you to the paypal website where you can easely arrange payment..
If there would be any problem, don't hesitate to contact me.. I will gladly help..
Thanks for downloading and enjoy the movie.. I had fun climbing and making it..